TERRY CRULL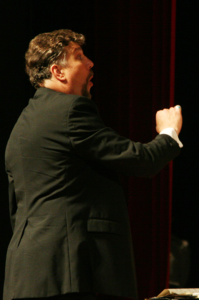 Dr. Terry Crull is Professor of Music and Director of Choral Activities at Fort Hays State University in Hays, KS. His duties include conducting Fort Hays Singers, Concert Choir, Women's Chorale, and Smoky Hill Chorale. He is music director of the Fall Musical, serves as chorus master for FHSU Opera, supervises choral student teachers, and teaches courses in choral conducting, choral music education, aural skills, group voice, and music appreciation. He holds professional membership in ACDA, KCDA, NAfME, & KMEA.
2022-2023 marks the eighteenth year Dr. Crull has been at FHSU. In those years, an FHSU choir has been selected to perform at the KMEA Workshop nine times. Fort Hays Singers also tours regularly within the five-state region. Recent tours have been to and from Estes Park, CO, Branson, MO, Oklahoma City, OK, and Kansas/Nebraska. More extended tours have been to Taiwan in May of 2007, Austria in June of 2018, and to Hawaii in December 2021, where the Fort Hays Singers represented the 5-state region at the 80th anniversary commemoration ceremonies of the attack at Pearl Harbor on Dec 7th, 1941.
Dr. Crull has conducted both MS and HS Honor Choirs for nearly all of the Kansas districts statewide, and numerous league vocal clinics in Western Kansas. He has also conducted choral festivals in California, Colorado, Iowa, Minnesota, Nebraska, North Dakota, South Dakota, Washington, West Virginia, and Wisconsin, and has presented numerous clinics for choral musicians. Dr. Crull has conducted numerous church choirs, and has been actor, musical director, conductor, producer, or stage director for 100+ musical theater productions.
Dr. Crull has degrees in choral music education from the University of Northern Colorado (D.A.), the University of South Dakota (M.M.), and Dordt University (B.A.). His 43-year career in teaching has included Ontario Christian School (grades 5-8), Ontario, California; Unity Christian HS, Orange City, Iowa; Dakota Wesleyan University, Mitchell, SD; the University of Northern Colorado, Greeley, CO; and Fort Hays State University, Hays, KS.
JÁNOS CZIFRA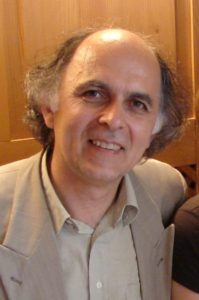 Born in Hungary, János Czifra has been the director of music of the Salzburg Dom since 1989. Apart from his liturgical services, Czifra has arranged the music for the choir and the orchestra of the cathedral for internationally recognized big events such as the visit of the Pope to Salzburg, Episcopal consecration and jubilees, and festivals of sacred music and symposiums.
Numerous concert tours led János Czifra and the Cathedral Choir to the USA, to Japan and to various European cities. Due to his international reputation, Czifra has repeatedly been invited as conductor or juror in Europe and overseas. In 2002 Janos Czifra was admitted into the European Academy of Science and Arts and thus given the title "Professor." He very much values and enjoys the opportunities to work together with the many musical guests to Salzburg and the cathedral.
Join us in the "City of Mozart"
Please fill out the form below to request more information about the Salzburg Choral Festival